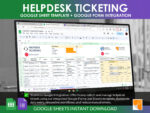 Helpdesk Ticketing Template
Helpdesk Ticketing Template
$9.95
Boost your project management efficiency to the next level with our all-new, user-friendly Helpdesk Ticketing Template! Specifically designed for seamless integration with Google Forms, our template transforms real-time ticketing into a breeze. Record, track, assign, and resolve issues directly from your workspace – no complicated software, no bulky installations, no Appscript. Perfect for IT, adaptable for Construction Management, and versatile enough for any industry that demands efficient issue handling. Ready to empower your team and streamline your workflow? Discover the game-changing potential of our Helpdesk Ticketing Template now!
PRODUCT HIGHLIGHTS:
✅ Seamless Google Integration: Leverage the power of Google Forms and Sheets for effortless ticket collection and management. Eliminate manual data entry and reduce errors.
✅ Real-Time Tracking: Get instant updates as issues are submitted, assigned, and resolved. Monitor the progress from anywhere, at any time.
✅ Fully Editable Template: Customize the Google Form and Sheets template according to your team's needs. Adjust categories, priority levels, and more.
📌 Instant Download
📌 System Requirements: Google Account