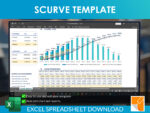 S-curve Management Template
Sale!
S-curve Management Template
-100%
S-curve project management template is one of the requirements for submitting a project baseline schedule, once the baseline is approved by the consultant/client, the same template will be updated on a monthly basis for monthly progress reports. S-curve will be based on the project cost for cost management or earned value management (EVM) or budgeted manhours for resource management. Rocketsheets professional templates that are used in actual projects will be helpful for engineers and managers.
PRODUCT HIGHLIGHTS:
✅ Easy to use: Editable template with user guide.
✅ Automated chart: Automatically plot the s-curve chart based on EVM data and starting date.
✅ Automated calculation: SPI status summary report for each period.
📌 System Requirements:
MS Office Excel
📌 Limitations:
Requires basic excel knowledge on adding/reducing the project duration.
📌 Delivery:
Downloadable